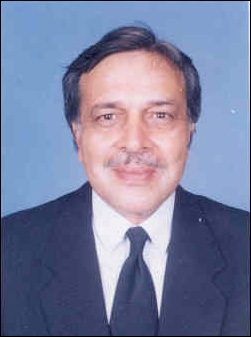 Mr. Justice Sarmad Jalal Osmany
name:
Sarmad Jalal Osmany
Date of Birth:
13th October,1950
Hobbies/Interests:
Interests include golf, hunting and fishing, classical music, theatre, literature
Academic Qualification:
High School from St. Anthony's High School, Lahore,
1966, Graduated (BA) University of Peshawar, 1971, LLB
University of Punjab, 1975, LLM, University of London, 1978.
Enrolled As An Advocate:
In 23-11-1978, as Lower Court Advocate by Sindh Bar Council.
In 31-12-1980, as High Court Advocate.
Professional Experience:
Worked as an associate with a leading law firm in Karachi from 1979 to 1982 then in USA with the law firm of Shearman & Sterling New York City from 1983 to 1984. Practiced mostly in the international trade and banking areas. Established own Law Firm in Karachi in 1985, appeared before Sindh High Court as well as Arbitration Tribunals, practiced in the banking and shipping areas and also handled merger and acquisition matters while advising the Privatization Commission of Pakistan.
Judicial Experience:
Elevated as a Judge of the Sindh High Court in 1998, heard and decided cases in all areas of the Law including Shipping, Banking, Property, Tax, Constitution as well as Criminal Areas. Member of the Provincial Steering Committee for the Province of Sindh in the Government of Pakistan's Judicial and Legal Reform Project. This Project is funded by the Asian Development Bank and entails reforms in a number of areas including Judicial Policy and Administration, Delay Reduction Programme, Access to Justice, Legal Education, Judicial Training, Strengthening Commercial Dispute Resolution Procedures, Drafting /Amendment of Legislation etc. Attended Workshops and Seminars in the country regarding the Project. Also attended International Judicial Conferences on Secured Transactions Law Reforms and International Insolvency sponsored by the Asian Development Bank and World Bank. Elevated to the Supreme Court in September, 2008 and then became Chief Justice Sindh High Court on 3rd August, 2009.
Teaching Experience:
Professor of Law at Sindh Muslim law College Karachi, from 1980 to 1982 and then from 1985 till 1998. Taught both LL.B. and LL.M. classes viz contract, sale of goods, company and international law.